Helping Aaron transform his pharmacy into the 20th century with technology and design.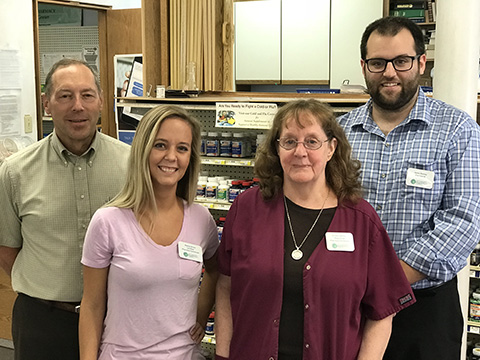 Klinger Pharmacy is a very well known pharmacy in the north west Ohio. It has been serving the community of West Unity for over 50 years. The pharmacy recently sold to Aaron a Pharmacist who lives in the area but as soon as he took over he knew he had to call ConfigRX. The pharmacy is a very productive pharmacy but the technology being used was slowing down the pharmacy staff. Their computers were too slow, network cords were taped to the floor where people can trip over them, internet was not very stable, the pharmacy only had 2 telephone lines and they even had cables running through the air ducts.
ConfigRX traveled to West Unity to visit the pharmacy and did an IT Audit of the pharmacy to see what exactly needs upgraded. While on site Aaron showed us around the pharmacy and we got a really good idea what the pharmacy needed to bring it up-to-date. Later that month ConfigRX traveled back on-site to the pharmacy and reworked the technology including the phones, adding IVR, new security system, new cables, new firewall, new computers and more. Now the pharmacy operates very efficiently and with less stress thanks to the new technology. Calls are not dropping randomly, the internet connection is always on, Aaron is saving money every month on his telecom compared to what he used to pay, computers are not freezing up, and Aaron has the confidence he can serve his patients without having to worry about failing technology pieces.
Not only did ConfigRX help Aaron with the technology but we also took care of updated his logo and website for him. Aaron decided to keep the name Klinger Pharmacy so we designed him a more modern logo and website. Aaron is currently working on adding his new logo to all marketing material and working on a building sign with the logo. You can see the website and logo here: klingerpharmacy.com
OBJECTIVE
To modernize the technology and design of an older pharmacy
RESULT
Klinger Pharmacy is now saving money on their monthly telecom bills, has an effective IVR solution, installed a stable network with new cables, new security system and a new modern logo and website.