How to start a Pharmacy or to open a pharmacy business. ?
Start your pharmacy business journey today! Be your own boss, help your community.
Are you thinking of starting a pharmacy? Knowing the requirements to open a pharmacy helps. The independent pharmacy world offers a lot of opportunities for pharmacy owners. You can be your own boss. No more 60 hour work weeks for a large pharmacy chain. Actually serve customers and help them take control of their health.
This all sounds great but the truth is.. it's a lot of work to start a pharmacy. No matter what you read, it's a long journey from start to finish. You will encounter issues along the way. For example: City permits are always a pain. Finding a GC (general contractor) who actually cares about your project. Dealing with your state board of pharmacy, oh and expect a lot of delays. Our pharmacy consultants can ease out these procedures for you with their experience and expertise.
I personally have been involved in the opening of over 50+ pharmacies across the country. I am writing this article based on my personal experiences. Remember every state is different and some are easier than others to open a pharmacy. 
How to start a Pharmacy?

11 Major Steps And Requirements To Open Your Independent Pharmacy
1. Have a desire to help
2. Perform location analysis
3. Develop a plan
4. Find funding
5. Collaborate with a contractor
6. Order cabinetry
7. Design website
8. Select correct technology
9. Schedule an inspection
10. Apply for insurance
11. Market your pharmacy

In this article, we examine the items needed to open a pharmacy or start a pharmacy business. We also discuss some of the common questions we receive from our clients when starting a pharmacy or for pharmacy decoration.


What it looks like when you open a pharmacy business?
A lot goes into opening a pharmacy business. Join us as we cover the steps required to start your own pharmacy business.

Talk to us about your idea.
Interested to learn more about our Start A Pharmacy IT Package? We guide our clients from beginning to end and we come on-site to your pharmacy startup. We have helped over 50+ pharmacies across the country start a successful pharmacy. Don't hesitate, start your business journey today!
What to expect and what it takes to open up a pharmacy?
Starting and operating a pharmacy isn't as easy as most think. There are many items to consider. No longer are you just verifying scripts, but you are also verifying payroll, marketing, inventory and more. Below are some key traits to have if you are thinking about opening a pharmacy.
Patience: If you don't have patience, don't expect to be a pharmacy owner. Everything in the independent pharmacy world requires you to wait. The independent pharmacy world is slow and I like to think it's about 10 years behind any other industry. From insurance contracts to payment processors to government agencies.. It's slow. Later in this article I will review the time frame to expect to open a pharmacy and trust me it's longer than you think or read.
Resilience: As you slowly start to open your pharmacy you will think everyone is against you. From the landlord to the bank. Truth is.. they probably are. Community pharmacies aren't always successful and they take a lot of resilience and dedication to be successful. I've had some clients take things personal and you can't do that in the business world. If the opportunity between you and the bank or another entity doesn't work out, move on. It's not worth the time and effort.
Adaptable: The reason I include this trait as a pharmacy owner is simple, you have to be open to change. Most pharmacies start off as simply a retail pharmacy. Retail pharmacy sometimes isn't enough. A majority pharmacies end up adding compounding, packaging or even specialty to their pharmacy services. These additional services help increase the pharmacy revenue and keep the ship sailing the first few years.
What are some Essential Pharmacy Terms?
Lets first go over some essential pharmacy terms needed to create a successful pharmacy operation. Understanding each of these key terms and how they relate to each other will require a bit of research. Be sure you have a solid understanding of these terms before you decide to move forward with your pharmacy project. We will cover a few of these items later in the post.
Pharmacy Systems – Which is best for my services and workflow?
Location – Is my location clearly visible to potential patients?
Construction – I need a contractor who is familiar with HIPAA/HITECH regulation?
Inventory – What's a good starting inventory to have?
Financing/loans – How do I secure my loan or do I even need a loan?
Technology – How can I use technology to better reach my patients?
Marketing – What works in the pharmacy world in terms of marketing?
How To begin A Pharmacy Business Plan?
Any savvy business owner will create a business plan for their idea. A startup pharmacy needs a solid business plan that clearly defines the business. You will need to present your business plan to investors, banks and others. Your pharmacy business plan should clearly layout your goals for opening a pharmacy today. For example: Most pharmacies business plans include a mission statement about caring for patients by offering free delivery, one on one counseling and more. Pretty much offer something they can't get at a large chain pharmacy. Separate yourself and give customers a reason to choose you over a chain.
In addition to the overall goals of the pharmacy there are additional items to include in the plan. Some other items to include in your pharmacy business plan:
Services offered: Is your pharmacy more of a retail community pharmacy that focuses on it's patients? Perhaps you offer in-home or delivery services with home medical items? There are many different services a pharmacy can offer. We suggest finding out what could the community benefit most from by looking at the competition and demographic in the area.
Financing: In this section you will need to state if you are working with a bank, self financing,  etc.. You also will need to layout your total budget and banks usually want these items as line items. Be sure to include your building renovations, contractors, cabinets, drug inventory, technology, marketing etc.. These can easily go over $500k+
Marketing: A good marketing plan is a must for any pharmacy. How you will grow your pharmacy is of interest to investors and banks. What is your plan to acquire new patients and keep them? You can include items like direct mail, signage, grand openings, meeting prescribers face to face and more. Marketing is key to growing your pharmacy and you must have a sound marketing plan for your pharmacy to survive.
Financing options, how much is needed to kick off a pharmacy ?

Don't expect it to be cheap: You can easily spend at least $450,000 for a small pharmacy. Loan officers will request you are willing to add your own cash as well. This tells the loan provider you are serious about your project. Be ready to have your background checked, credit and work history. These banks are dealing with you directly. Talk to a financial advisor if you have any concerns about financing your pharmacy.
Obtaining an EIN (Employer Identification Number): Any business needs an EIN to operate a business and hire employees. Be sure to get your EIN from the IRS. You will want to fill out an SS-4 form that you can download from irs.gov
Finding the right bank for your loan: There are few pharmacy specific banks that provide loans to pharmacy owners. The first two off the top of my head are Live Oak Bank and First Financial Bank. These banks know the loan process for a pharmacy start up better than most banks. We recommend you give them a call to discuss a loan for your start up pharmacy. Don't forget the check the SBA (Small Business Administration) for loan options as well.
Starting your pharmacy is going to cost you some money. You need to be able to know how to apply for business loans with banks within the pharmacy industry to get approved. Once you open you will need to speak the language of business. That means understanding your cash flow. Balancing a budget for your pharmacy. Managing expenses and bringing in new revenue to keep your pharmacy breathing.
How to deal with the pharmacy loan process?
Have your business plan and documents ready: We recommend you are well prepared and ready to submit any document asked. A business plan will be required. This is a well thought out presentation that includes: Projections, projected revenue, all costs associated with your business, how you will make money and more.  To obtain a business plan we recommend following this guide from the SBA. You may also reach out to pharmacy advice consultants such as ConfigRX.
Have enough money to get you through a few years: Most pharmacies will not turn a profit the first year or two. You need to account for this in your loan. Be sure to have enough money to pay your bills, employees, insurances etc.. If needed there are plenty of financial advisors you can consult with.
Location of your pharmacy is tied to the success of your pharmacy. I cannot stress this enough. Your pharmacy location must be thoroughly researched. Many pharmacies fail simply because nobody even knew it existed.
Location and Market Research is vital
Finding the right location: Look for other pharmacies in the area. Are they independents or large chain pharmacies? Just because there is a CVS in the town doesn't mean there isn't opportunity. Large chains have plenty of angry patients that are ready to switch for one reason or another.
Medical offices and prescribers: Look for locations near medical offices and other prescribers. Stop in and ask them if they think the community could use an independent pharmacy in the area.
Be visible with access availability: Try to be near busy intersections with clear visibility of the pharmacy. You want people driving by to clearly see your pharmacy and know that they have options. Also consider LED signage if your city allows it.
Research your target audience: Be sure you understand your community and what services they may need. Some communities can really benefit from services such as free delivery or medication synchronization.  You can easily pull this information online.
These are just some of the items required in a pharmacy business plan. There are other items to include and you should be as detailed as possible. If you need help creating a pharmacy business plan check out a checklist by NCPA here.
How to design your pharmacy?
A very fun but expensive project is pharmacy layout design. This includes the layout, construction and all your fixtures. Everyone wants a nice and vibrant looking pharmacy, while not spending a fortune for their pharmacy decoration. The trick is to find the right people at the right prices.
Think about your workflow: How will your workflow flow? This is what you need to figure out before you start designing the inside of your pharmacy. Will everyone pass everything to the left, center or right? Will you have an extra data entry station in the back? Where will your point of sale be located? Don't forget about drive-thru. Most pharmacy workflows are based on the pharmacy software and technology. We will address this later.
Find a general contractor that actually cares: As a pharmacy consultant I personally have worked with many contractors. I can honestly say about 70% of them are overpriced and inefficient. You will want to ask other business owners who they recommend. Another option is to check with the BBB in your area. Consider the contractors relationship with the city. This is often where delays happen. Some city permits are submitted through your general contractor. If your contractor has a good relationship with the city, your process should move along quicker. 
Note: It is always preferable to use wooden dining chairs in pharmacies as they are very comfortable.
Leave a lasting impression to your new patients
Choose a cabinet company: There are a few pharmacy specific cabinetry companies. A few that I personally have worked with are Pharmacy Design Services and Pharmacy Design Group. A good cabinet company will work with you to come up with a design that fits your workflow and layout space. Often, these cabinetry companies will visit your pharmacy on-site to get a better idea.
Be ready to expect a hefty price tag for your cabinetry. Most pharmacy cabinet projects are at least $30,000 and easily go above $150,000 for larger pharmacies.
Comply with ADA and HIPAA: You will want to be sure your pharmacy is compliant and easily accessible for everyone. We recommend following the guidelines from the ADA checklist here. A great read at The Pharmacy Times here talks about why your pharmacy needs to be ADA compliant.
Do you know how to make a hipaa compliant website? HIPAA guidelines should also be considered. A good cabinet designer will know these guidelines and apply them to your project. Usually after the cabinets are installed you can apply for your state license and DEA number.
What are the Licenses Required?
Every emerging business necessitates documentation, and this holds especially accurate for pharmacies, given their substantial regulation. To begin, initiate the process by enrolling your business as a legal entity within your state, securing your federal Employer Identification Number (EIN), and inaugurating your initial business bank account.
Once you've tackled the foundational aspects of your business, make sure to review the state and federal prerequisites for pharmacy operations, including licenses and permits. Keep in mind that these requirements can differ based on your specific location.
Typical requirements include:
State pharmacy license or permit

Controlled substance registration
Keep in mind that if you also plan to practice in your own location, you need to meet state requirements for pharmacists as well.
How Long Does It Take To Open A Pharmacy?
Most people start out thinking it will take a few months to open a pharmacy. Reality is it takes 8+ months or even years to open a pharmacy. Be ready to be delayed by landlords, city permits, insurances, state boards, bank loans and more.
A good piece of advice is do not open until you have ALL of your important contracts. The last thing you want is a new customer to come into the pharmacy just to find out you can't accept his/her insurance. Odds are that customer isn't coming back.
You can often research to see which insurance is popular in your area. Do everything you can to have this contract before you open.
Pharmacy Marketing and Designing Your Brand
Just like any other business, pharmacies need precision marketing to reach new patients and prescribers. Most pharmacies think they only need to market to patients and forget about the prescribers who can send you patients! Having a good and trustworthy brand will certainly help. Your marketing goal should be to find and keep loyal customers.
Be sure people know you exist, including prescribers. Have unique and customizable services that will benefit your patients. Let's go over some key details about marketing and designing your brand.
Pharmacy Name and Brand Design: Choosing a pharmacy name is a lot more difficult than most think. You can choose a traditional name or go for a more modern short name. Take a look at our article on choosing a pharmacy name. Once you pick your name be sure to register your domain with GoDaddy, BlueHost or another Internet domain registrar.
Designing your logo and website: Every pharmacy needs a professional and trustworthy logo and website. We recommend having a professional design your pharmacy logo and website. Successful pharmacies create and spread brand awareness through professional design. Take a look at some of our logos and websites we have designed for our clients. We would be glad to help you get started with your pharmacy brand.
What is a good marketing plan for a new pharmacy?
Before and after you open you will want to have a solid marketing plan. A marketing plan includes different ideas to grow your pharmacy, increase your customer base and reach new patients. These can include mailings, social media postings, Google Ads, grand openings and more. Take a look at our marketing plan blog post. A good marketing plan can start a pharmacy off on the right foot. Here are a few ideas for marketing your pharmacy:
Services – Delivery, Medication sync, medication packaging, MTMs, vaccines, short wait times, travel health etc..
Staff – Promoting your staff is great way to show how genuine your pharmacy is. If you're in a small community this is very effective.
Pricing – Most people think a community pharmacy is more expensive than a large chain pharmacy. Show potential customers it saves to shop local.
Know the community: A great way to market your pharmacy is to be involved in local events. Be sure to check out all local business events in your area, especially related to healthcare. Try to join local city boards and attend meetings in your community. Talk to other business owners to get their perspective on running a business in the community.Social Media: I'm sure by now you know everyone is on social media. However, did you know you can market on most social media platforms with a small marketing budget?  We advise you to take advantage of this, especially on Facebook. Target a radius around your pharmacy address and keep your page updated weekly with organic fresh content. Check out our pharmacy marketing company PharmacyLive.com. Offering digital marketing including social media marketing, SEO and Google Ads
Pharmacy app: Think about having an app for your pharmacy. A pharmacy mobile app will provide convenience to your patients. Most pharmacy and IVR systems offer mobile app development.
What are the Technology in Pharmacy we should used?

Technology is vital to pharmacies. Having the right technology in your pharmacy is very important because your pharmacy revolves around tech. There are many pieces of technology in a pharmacy. For example: Pharmacy systems, automation (robots), workstations, printers, networking devices, IVR systems, internet/phone providers, internet service lookup, Point of Sale, delivery routing and more. We invite you to take a look at our Technology Learning Center to learn more about pharmacy technology. Each piece of technology helps shape your pharmacy, lets take a look at some of them.
IVR Systems: An IVR is menu that callers hear when they call into your pharmacy. IVR also allows your patients & prescribers to request refills 24/7. This is very important and many patients and prescriber expect this. Therefore, all pharmacies should have some sort of IVR in their pharmacy.  IVR services can also do outbound notifications. For example, when a script is ready to be picked up. The IVR service can automatically notify the patient. Some IVR services work better with certain pharmacy systems. Here are a list of IVR services:
Pharmacy Hardware: When it comes to computers, printers, scanners, tablets etc.. You have a few options. Purchasing directly from the pharmacy system or buying items yourself. If you decide to purchase directly from your pharmacy system, expect to overpay because their equipment is outdated and overpriced. Pharmacy systems make money off the hardware you purchase from them,
If you are looking to save some money however, purchase the equipment yourself. Often doing this will result in newer equipment at a better price. To make it easier for you, we created a list of the popular hardware in pharmacies. Take a look at our list of hardware and pharmacy networking items to save some cash purchasing items yourself.
Note: Certain items for example, the pharmacy server and POS items we recommend purchasing from the pharmacy system.
Talk to us about your idea.
Interested to learn more about our Start A Pharmacy IT Package? We guide our clients from beginning to end and we come on-site to your pharmacy startup. We have helped over 50+ pharmacies across the country start a successful pharmacy. Don't hesitate, start your business journey today!
Reliability and uptime are key
Phone and Internet: Pharmacies utilize both phone and internet services to operate. You will want to make sure you have a consistent internet and phone connection. A backup internet is always recommended because there will be times your internet goes down. Another item to mention is VOIP phone services. VOIP is newer technology allowing phone calls to go through the internet. VOIP often has much lower prices than traditional phone services.
Be sure you get a good rate on both services. Take a look at our free pharmacy internet and phone search here. We developed this page for pharmacy owners to receive discounted rates from all major phone and internet providers.
Security: A must have in any pharmacy is security. Therefore, we recommend having cameras and alarms in all pharmacies. Most states require an alarm system but cameras are optional. Alarms and cameras these days are controlled and viewed on your smart phone. They don't cost an arm and a leg anymore. We have partnered with most major alarm companies in the country, feel free to contact us here. We will make sure you are not overpaying and you have the right alarm system.
Acquire Stock and Materials
Certainly, acquiring stock and materials is a crucial aspect of starting a pharmacy in the USA. Ensuring a steady supply of pharmaceutical products and other necessary items is essential for the successful operation of your pharmacy business. Here are some key points to consider when it comes to acquiring stock and materials for your pharmacy:
Supplier Research: Research and identify reputable pharmaceutical wholesalers and suppliers. Look for distributors that offer a wide range of products, competitive pricing, and reliable delivery services.
Product Selection: Determine the types of pharmaceutical products you intend to offer in your pharmacy. This could include prescription medications, over-the-counter drugs, medical supplies, and healthcare-related products.
Inventory Management: Implement effective inventory management practices. Utilize inventory management software to track stock levels, monitor product expiry dates, and optimize the ordering process.
Regulatory Compliance: Ensure that the products you acquire adhere to all regulatory guidelines set by the Food and Drug Administration (FDA) and other relevant authorities. Only purchase products from licensed and authorized suppliers.
Bulk Purchasing: Consider bulk purchasing for commonly used items to benefit from volume discounts. This can help reduce costs and improve profit margins.
Diversification: Don't rely solely on one supplier for all your stock. Having multiple suppliers can provide you with options, flexibility, and a backup in case of supply chain disruptions.
Quality Control: Prioritize the quality of the products you acquire. Your pharmacy's reputation will be built on the effectiveness and safety of the medications you provide.
Product Rotation: Follow a first-in, first-out (FIFO) approach to ensure that older stock is dispensed before newer stock. This helps prevent product expiration and wastage.
Negotiation Skills: Develop negotiation skills to secure favorable terms with suppliers. This could involve negotiating pricing, delivery schedules, and payment terms.
Emergency Preparedness: Have contingency plans in place for unforeseen circumstances that might disrupt the supply chain. Maintain a stock of essential medications to meet patient needs during emergencies.
Track Trends: Stay informed about industry trends and new product releases. Offering innovative and in-demand products can give your pharmacy a competitive edge.
Ethical Considerations: If you stock complementary and alternative medicines (CAM), supplements, or other non-pharmaceutical products, ensure they meet ethical and safety standards.
Remember, the success of your pharmacy business is closely tied to your ability to efficiently manage your stock and materials. By ensuring a consistent supply of high-quality products, you can provide the best possible care to your customers and build a strong reputation in the industry.
Which Pharmacy Systems should I use?

Choosing the right pharmacy system is a long process full of demos and research. You may be going to pharmacy trade shows and seeing amazing booths and tons of freebies. That's all great, but what really matters is how the software helps you reach your pharmacy goals. Don't be fooled by flashy new features, do your research and choose the right pharmacy software for your business. Remember, we are also here to help you with choosing a pharmacy system for your pharmacy. Below we take a look at some items to consider when choosing a pharmacy system.
What are your offered services?: A pharmacy system you choose should have modules for all of your services. For example, if you plan on offering compounding and mailing, be sure your pharmacy software offers great modules for these services. Some pharmacy systems have better modules for certain services than others. We recommend talking to other owners and asking them their opinion.
Spend a week on demos: Take a full week and demo 4-5 different pharmacy systems. Learn and ask questions about each product. Remember to have your workflow in mind and how this software can help make it more efficient.
Learning curve: How long does it take to train a technician or pharmacist on the software? I personally can tell you some systems are so robust it will take you 4-6 months to fully understand. However, some systems you can learn in a few days. Do you plan on having multiple pharmacies? If so, perhaps a easier and simpler system is more appropriate for training purposes.
Be sure to include future growth when evaluating
Mobile: Does the pharmacy system offer mobile functionality? Can you access your pharmacy system on a laptop from a health fair or a physicians office while you are working a flu clinic? How about mobile payments at their front door during prescription delivery? Speaking of delivery, some pharmacy systems can actually map your delivery route for you.
What training is available?: Every pharmacy system should offer some sort of training on their system. Some will come on site to your pharmacy while others will offer training over the phone.
Point of Sale system: One aspect of pharmacy software that is always overlooked is the POS system. The pharmacy system should have a clean, straight to the point POS system with great reporting. There are some really terrible POS systems out there, make sure you ask to see the POS system for any software you evaluate.
Which system to choose? Here is a list of some pharmacy systems available for start up community pharmacies. We are available to help you choose which system, feel free to contact us. We are pharmacy owners and have installed and worked on most systems available to independent pharmacies.
What are the Mistakes to avoid while opening a new pharmacy ?
While opening a pharmacy you should avoid below mistakes
 
Your pharmacy location is probably the most important factor to determine how successful your pharmacy business will be. Make sure you are clearly visible near a main road or intersection. Check out where CVS and Walgreens choose their pharmacy locations, always on the busiest roads in town, there is a reason for that.
Avoid the business district and non-main roads. You want your potential patients and prescribers to know who you are and what services you offer.
Know your market and what services you need to offer to fit your market. Don't just assume your customers know what services you offer. Clearly display your services as much as possible on signage and marketing materials.
A good example is your window decals, building sign and on your delivery vehicle. Always try to emphasize delivery, compounding, educational services and any packaging you offer.
Having a sound business plan is always important. You need to know your financial options and what to expect along the way. Any loan provider will need you to provide a business plan that clearly outlines your strategy to create a profitable business. 
Understand that community pharmacy is different from a chain pharmacy like CVS or Walgreens. No longer will you just be filling prescriptions but you will be expected to know your patients on a personal level. Community pharmacy customers are expecting a little more from their pharmacy than a chain pharmacy customer. Be prepared to answer questions from your patients and have an understanding for their health.
Unless you have opened a pharmacy in the past, consider using a consultant. Usually consultants can guide you through the process and help you avoid costly mistakes. ConfigRX has helped pharmacies through technology start and buy pharmacies. Feel free to contact us directly at 937-907-0078
Plan on dedicating 2-4 days a month to marketing your business at the start. A common mistake that pharmacy owners make is that they do not focus enough time and effort on growing and marketing their pharmacy. This means going out to prescribers and community events.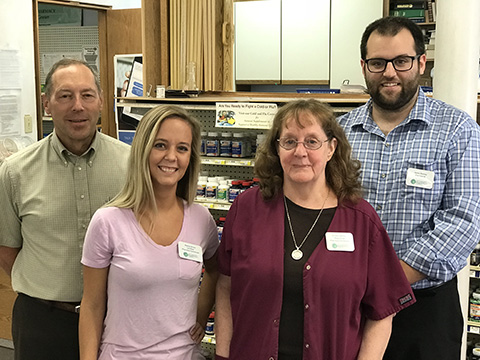 Start the hiring process
If you're at this stage congratulations! You're almost finished and can open your pharmacy soon. It is important to hire the right employees for your pharmacy. There are rules involved with hiring and you want to make sure you stay within those rules. Get advice on tax forms, government regulations and insurance requirements before you start.
Perhaps you have some experience hiring employees at your previous job, that is great. However, as you may know hiring is an art form. Your first employees should be excited about the start up pharmacy. Lets explore some hiring requirements and tips.
Register with your state labor department: This is a requirement for any employer hiring employees. Once registered you will have to pay state unemployment compensation taxes. Your payment goes to your states compensation fund for unemployment. Check out the Department of Labor's page for a list of state unemployment insurance tax agencies.
Workers' Compensation : Another requirement is workers' comp in most states. This protects workers from on the job injuries.
Setup a payroll system: There are many options when it comes to payroll. Online payroll companies like Paycor and ADP are great options for this.
Patients are an employees priority
Post a job description online: This is always a challenge for most pharmacy owners. You don't want to forget anything in a job description. Therefore, you should write a detailed job description for your pharmacy. Most independent pharmacy employees wear many hats unlike the large chains, be sure to include as much as possible in your job post. Here is a great guide on writing job descriptions for business owners.
Interview your potential team members: Before you meet the applicant in person have a 10-15 minute phone call. During this call make sure they meet the basic requirements and listen to their phone etiquette. During the in-person interviews be sure to ask the right questions. Ask about their history in pharmacy. What are their strength and weaknesses? Be sure to emphasizes patients come first in community pharmacy.
In the interview process determine if they will be a good fit with you and your team. Making sure employees work good together is probably the most important factor.
You're Not Alone in your Journey
Pharmacy consultants are great resources. Consultants have experience opening their own pharmacies or helping others. A pharmacy consultant helps you make accurate business decisions. They should be able to tell their clients to pursue or walk away from opportunities.
Pharmacy consultants offer a variety of services. Check out Independent Rx Consulting if you are looking for a full consulting service. Including location analysis, inventory management, loan consulting, business plans, market analysis, lease negotiations and more. Consultants can often save their clients thousands through their partners/vendors. Consultants receive better deals from vendors and this deal gets passed along to their clients.
If you are considering a pharmacy startup you should consider our Start A Pharmacy Package where we come onsite to your location to setup your pharmacy. I also recommend you check out our article on hiring a pharmacy consultant.
In conclusion
As stated in the first paragraph, opening a pharmacy is hard work. You will have ups and downs before and after you open your pharmacy or starting a pharmacy business. It often takes 1-2 years for an independent pharmacy to break even. If you are determined enough and willing to put in the hours your pharmacy will be a success. Keep in mind there are tons of resources at your disposal including books, consultants, blogs, workshops and more.
The information provided on this website does not, and is not intended to, constitute legal advice; instead, all information, content, and materials available on this site are for general informational purposes only.
Other interesting reads

about

pharmacy
Frequently Asked Questions
How much does it cost to start a pharmacy?
The cost of opening a pharmacy is between $900 to $1,500K (as of May 2023) that includes inventory, renting or buying a store, and licensing fees. However, there are major factors to open a pharmacy which includes location, staffing costs, and mainly inventory.
What is the best location to open pharmacy?
The best location to open a pharmacy is:
1. Near an upscale neighborhood
2. Area with near doctors, hospitals, and nursery homes
3. Heavy retail areas
4. Near schools, hotels, and shopping malls
5. In that area where there is no other pharmacy
How expert advisors can help new pharmacy owners?
Just like any business, a pharmacy expert advisor or consultant helps make sure you start your business on the right foot. From helping secure your business loan to choosing the right software and technology for your pharmacy. Advisors are there to make smart financial decisions that will grow your pharmacy business.
Who can open a pharmacy?
Anyone who has legal pharmacy license are liable to open a pharmacy. However, to open a pharmacy you need to become a qualified pharmacist by acquiring a degree of Bachelors in pharmacy (B. Pharm) or Masters in pharmacy (M. Pharm).
How to long does it take to open a pharmacy?
Most pharmacies take about a year to open from start to finish. There are a lot of items that could delay this such as city permits, loan delays, insurance contracts, construction and more. Be sure to plan enough time ahead for any possible delays, and there almost always is a delay.
How do pharmacies make money?
Pharmacies mostly make money from reimbursement or prescriptions filled but there are other items that can add to your revenue line and profit margins. For example: Vaccines, Medication Packaging, Over the Counter items, Compounding, MTM Services and more.
How much does it cost to open pharmacy?
The average cost to open a retail pharmacy is around $500,000. This number fluctuates obviously depending on location, fixtures, services etc.. However it is much cheaper to start a pharmacy than to buy a successful pharmacy. A good pharmacy with high script volume could easily cost millions of dollars.